TAIPUS
In the heart of the Peninsula of Maraú, south of Barra Grande, is the area of Taipus, indigenous word that means "rounded hills".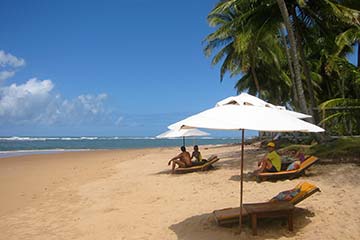 TAIPU DE FORA

With more than 7 km in length, giant palm trees, coral reefs and clear sand, the beach of Taipu de Fora is the most popular of the peninsula. It was elected the sixth most beautiful beach in Brazil by the magazines Viagem e Turismo and Quatro Rodas - Best of Brazil.

In recent years, the infrastructure of the beach has grown with pousadas, houses, bars-restaurants and other services.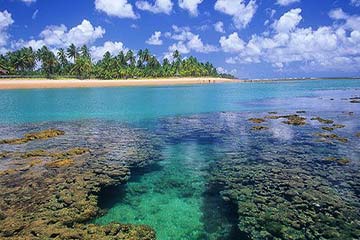 NATURAL POOLS

The great attraction is the huge natural pools that are formed at low tide between the coral reefs. With crystal clear waters and rich submarine fauna, it is an excellent place for snorkeling and underwater observation.

The times of full moon and new moon are the most indicated to enjoy the natural pools, when amplitude of tides is maximum.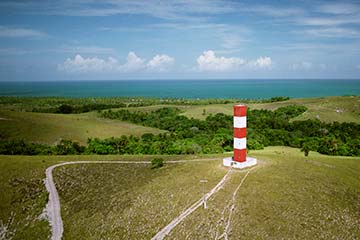 IN THE NEIGHBORHOOD

Taipu de Fora can be an excellent starting point to explore the Peninsula of Maraú. There is regular transport to the town of Barra Grande, located 7 km to the north. To the west, the towns of Taipu de Dentro and Campinho are two alternative access to the Camamu Bay.

To the south of Taipus, long beaches extend by miles and miles. The Blue Lagoon, the forest of Giants Bromeliads and the Lagoon of Cassange are some of the incredible places that be found on the way.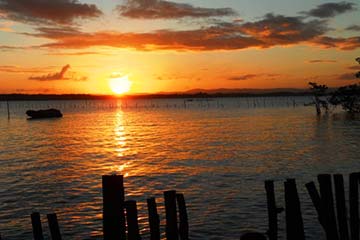 THE BLUE LAGOON

The Blue Lagoon (Lagoa Azul) is located at the southern end of Taipu de Fora. It is a lagoon of fresh water rich in lanolin, ideal for relaxing after bathing in the ocean. The pond is located next to the Lighthouse Hill (Moor do Farol), the highest point of the Peninsula of Maraú, from where can be seen all the extension of beaches from Ponta do Mutá until Itacaré.

TAIPU DE DENTRO

Located on the west side of the peninsula, facing the calm waters of the Camamu Bay, Taipu de Dentro is a small fishing village with a small charming beach where you can watch a beautiful sunset over the islands of the bay.