GOING TO THE MARAÚ PENINSULA

THE MARAÚ PENINSULA is located on the Dendê Coast, in the State of Bahia, 200 km south of Salvador, 150 km north of Ilhéus.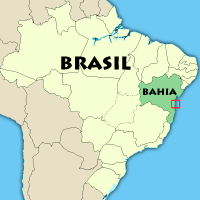 Geographic coordinates
Latitude: 13º 57' 10" South. Longitude: 39º 08' 40" West.
The climate is tropical and humid with an annual average temperature of 28ºC / 82ºF.

TO GET THERE BY AIR

The nearest airport is Ilhéus (IOS). The closest international airport is in Salvador (SSA). It is served by most major international air companies. There are daily flies to Ilhéus from Salvador, Belo Horizonte and São Paulo by the Brazilian companies LATAM, GOL and AZUL.

Airport Transfers
Transfers from the airports to Maraú or Barra Grande are available.

TO GET THERE BY BOAT FROM CAMAMU

Camamu is 3 hours from Salvador by the <!a href="http://internacionaltravessias.com.br/" target="_blank">ferry-boat and the road BA-001. Different kinds of boats take passengers from Camamu to Barra Grande. A slow boat leaves the pier hourly (6am to 5pm) in Camamu and and arrives at Barra Grande approximately 1 hour and 30 minutes later.

Speed boats
Tour agencies based in Camamu and Barra Grande provide speed boats across the bay - approximately 30 minutes.
TO GET THERE BY LAND

Coming from Salvador, the best way is to get the ferry-boat to Bom Despacho (Itaparica Island) and to go on by the road BA-001 till Camamu. In Camamu, two options are possible: to get a boat to Barra Grande (faster) or to continue on by the roads BA-001 and BR-030 (dirt road).
Coming from Ilhéus, two options are possible: to go to Camamu and go on by boat or
to get to Itacaré by the road BA-001 and take the dirt-road (BR-030) 12 miles after Itacaré.
Bus transport to Camamu
There are hourly buses from Bom Despacho (Itaparica Island) to Camamu. The journey takes approximately 5 hours. Águia Branca and Cidade Sol are the most direct and quickest bus companies. There are other buses to Camamu from Itacaré, Ilhéus, Itabuna, Valença, Feira de Santana and the main cities around.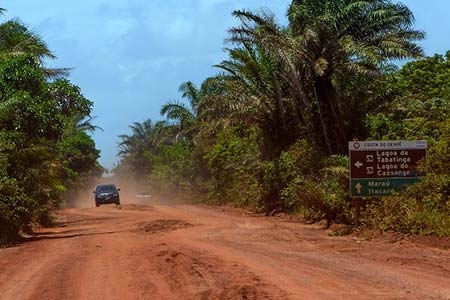 Driving on the road BR-030
The BR-030 is an unpaved road in very bad state that links the road BA-001 to Campinho, at the north end of the Maraú Peninsula. The access road to Taipus de Fora and Barra Grande is located 1 mile after the lighthouse, on the right side, 4 miles before Campinho. [MAP]
During raining periods the road may not be practical for common cars (4x4 recommended).

Distances to the town of maraú (by land)
From Salvador by BR-101: 345km; by ferry-boat and Itaparica: 190km. From Itacaré: 31km. From Ubaitaba: 63km. From Camamu: 102km.
From Barra Grande: 40km.

TRANSPORT WITHIN THE PENINSULA

Special vehicles provide regular transportation between Barra Grande and Taipus de Fora. Local tour agencies provide off-road trips to any place in the peninsula.